An unprecedented partnership meets an unprecedented end.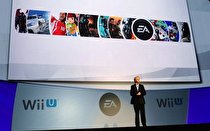 EA does not have any games currently in development on Wii U, said EA representative Jeff Brown.
He stated to Kotaku that: "We have no games in development for the Wii U currently." However, Brown was careful to not rule out any future projects.
Former CEO of EA John Riccitello took to the stage at Nintendo's 2011 E3 press conference, promising an "unprecedented partnership" between EA and Nintendo, hinting at games series like Battlefield taking advantage of the Wii U's unique capabilities. Rumors circulated that the Wii U's online capabilities would be powered by EA's online distribution Origin, but were dismissed when Nintendo revealed their own service, Nintendo Network. Since then, the Wii U only saw the release of four EA games: Madden 2013, FIFA 2013, Mass Effect 3: Special Edition, and Need for Speed: Most Wanted, the latter being the only EA release outside of the system's launch.