New Super Mario Bros. U and Nintendo Land both crossed two million since November 2012.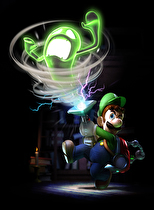 Luigi's Mansion: Dark Moon surpassed more than a million units worldwide in about a week and a half, while Nintendo Land and New Super Mario Bros. U both cracked two million sales across the globe, according to Nintendo's recent end-of-the-year financial briefing. Also, Kid Icarus: Uprising and Mario Tennis Open both sneaked past a million units since their early 2012 launches.
On Wii U, Nintendo Land leads the charge with 2.6 million units sold worldwide, though that number includes all of the Deluxe bundles in North America and Europe that contained the game. New Super Mario Bros. U is currently at 2.15 million units worldwide. For comparison, New Super Mario Bros. Wii sold more than three million units in less than two months, though the install base for Wii at the time was vastly more than the Wii U right now. New Super Mario Bros. Wii is currently at 27.88 million units to date.
New Super Mario Bros. 2 sold 6.42 million copies since its launch last summer, which blows the pace of the original on DS out of the water, as New Super Mario Bros. didn't crack five million units until April 2008, two years after launch. Although the DS game surged to close to 20 million units sold in the year after that. New Super Mario Bros. is north of 30 million units as of now.
Only two other 3DS games trump NSMB2's sales: Super Mario 3D Land (8.29 million) and Mario Kart 7 (8.08 million). The full list of 3DS million sellers are below:
Super Mario 3D Land – 8.29 million
Mario Kart 7 – 8.08 million
New Super Mario Bros. 2 – 6.42 million
Animal Crossing: New Leaf (Japan only) – 3.86 million
Nintendogs + Cats – 3.28 million
The Legend of Zelda: Ocarina of Time 3D - 2.95 million
Paper Mario: Sticker Star - 1.97 million
Pokémon Rumble Blast - 1.29 million
Luigi's Mansion: Dark Moon – 1.22 million
Kid Icarus: Uprising – 1.18 million
Mario Tennis Open - 1.11 million