Dillon the armadillo? More like armathrillo!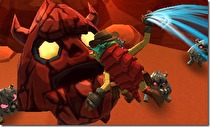 Saddle up, partner, for the sequel to one of the most divisive games at Nintendo World Report; Dillon's Rolling Western: The Last Ranger. Does this game improve upon its predecessor? Wait for our review to find out! The 3DS eShop is also getting Soccer Up 3D, and a digital release of Shin Megami Tensei: Devil Summoner: Soul Hackers on April 16. The Wii U gets Kirby's Adventure on April 17, and fighting game Injustice: Gods Among Us on April 16. Lastly. DSiWare treats us to Clash of Elementalists, a 3D arena brawler. Until next week, keep fit. and have fun!
3DS eShop Retail Games
Shin Megami Tensei: Devil Summoner: Soul Hackers - $39.99 (April 16)
Wii U eShop Retail Games
Injustice: Gods Among Us - $59.99 (April 16)
3DS eShop Games
Dillon's Rolling Western: The Last Ranger- $10.99
Ya better watch who yer calling 'varmint' there, pilgrim. These cowboys got no time fer yer belly achin'! They're rootin', tootin' and can't wait to put a boot in the bad guy's butt. Take control of Dillon as he builds towers and scratches his way through countless yella bellies, all to protect a town and a train. New to The Last Ranger is three partners who begrudgingly join forces with ya if ya can take em' down. Yeeeeehaw!
Who's ready for some non-American football?! That's right, we're talking about Soccer Up 3D, previously seen on the WiiWare service (albeit, not in 3D). Put your favourite Miis on a team and go to town, kicking balls all over the place! Use the download play option to compete against a friend or have a go against the computer. Don't be down, get Soccer Up...3D!
Wii U Virtual Console
Kirby's Adventure - $0.30 (April 17)
Originally released for the NES in 1993, Kirby's Adventure was the first time we saw our hero in all his pink glory. It was his second outing, but the first was for the Game Boy so he was more or less a white blob up to that point. Adventure also introduced Copy Abilities, the powers Kirby gains when particular enemies are ingested. Despite being an NES title, its sprites and animation may surprise you; a favourite aspect of mine being Kirby's angled feet when he stands on a hill. You have until May 16 to take advantage of its 30¢ price, so get to it!
DSiWare Games
Clash of Elementalists - 400 Points/$4.99(April 17)
Damn scientologists and environmentalists, they're taking all the headlines! What's a poor elementalist to do? No one seems to know or care about the elements anymore. All this jealousy and rage has built up, and now the elementalists are turning their hate inwards, and trying to kill each other! Pick from one of the four elements: earth, wind, f--err, Celsius, Biot, Fahrenheit or Mole. This 3D brawler will earn your respect for the elements once more, even if they have to beat it into you.