Independent developers speak to the next generation.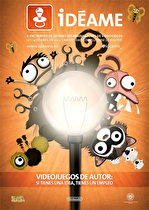 Indies with a history of developing for Nintendo consoles will speak at the fifth annual iDÉAME conference, a collaboration between Spain's Universidad Complutense de Madrid (the Complutense University of Madrid) and Nintendo. To celebrate, the Wii U and 3DS eShop will feature a number of discounts on the works of these independent developers.
iDÉAME's goal is to "connect aspiring developers with worldwide talent." Among that talent is Two Tribes, Gaijin Games, Frozenbyte, Shin'en, Broken Rules, Pwnee Studios, Slightly Mad Studios, Dakko Dakko, and Hörberg Productions. Employees of these studios will speak in a variety of panels, including discussions on the nature of sequels, promotion of digital software, crowd funding, and development with Nintendo Web Framework.
In celebration of the conference, the European eShops will feature the following sales:
Trine 2: Director's Cut €8.49/£6.99
The Cave €8.99/£7.99
Toki Tori 2 €13.49/£11.69
Little Inferno €4.99/£4.49
Mighty Switch Force! Hyper Drive Edition €7.49/£6.75
Nano Assault Neo €6.99/£5.99
Puddle €6.99/£6.29
Mutant Mudds €5.99/£5.39
Mighty Switch Force! €4.49/£4.09
Art of Balance Touch! €4.99/£4.49
Fun! Fun! Minigolf Touch! €3.49/£3.19
Gunman Clive €1.49/£1.49
Dress to Play: Cute Witches €1.99/£1.79
iDÉAME runs April 13 to 14.