The exclusive Club Nintendo title for gold and platinum members is available for download starting today.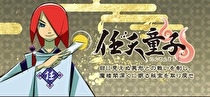 Nintendōji, a 2012 Club Nintendo prize available to gold and platinum members in Japan, is now available for download on the Nintendo 3DS eShop and Nintendo DSi Shop. Players who opted for Nintendōji last year were given a special download number which they can now utilize to download the free software. The game is a dungeon-crawling, card-battling, turn-based RPG.
An official website for Nintendōji also opened today, April 3. The site will be open for a limited time, closing on May 29, and serves as an official place to give advice to other gamers in the forms of short notes to help them through difficult areas of the game.
Nintendōji is an exclusive prize only for Club Nintendo members in Japan. There are currently no plans to release the title in the West.