It turns out that being Vice President of the World has a few interesting perks.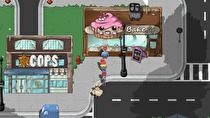 Citizens of Earth, a role-playing game said to be inspired by seminal Nintendo title Earthbound, has been announced for the Wii U eShop early next year.
Developed by Canadian outfit Eden Industries, Citizens of Earth stars the Vice President of the World, who returns to his rural home town following a successful election, only to find that some very strange events have started to occur. It is up to the player, as the VP, to recruit locals in order to fight enemies, improve the town and investigate these bizarre goings-on.
Over the course of the game, players can recruit more than 50 characters, each one possessing their own battle abilities and serving a special function within the world. As each character is used more and more in battle, they become more proficient at their town job as well.
Examples include the Moonbucks Barista, who attacks foes with scalding coffee and sells booster items, the Baker, who heals allies with cakes and sells health items, and the Mascot, whose cheers increase the effectiveness of other townspeople both in and outside of fights.
The game will also include competitive online multiplayer, in which two players pit their respective parties of townspeople against each other in battle.
Citizens of Earth is currently set to release on the Wii U eShop in March 2014.