His harvests may have ended, but Yasuhiro Wada is back in shop form.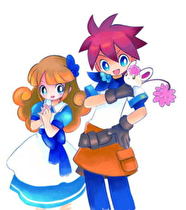 Harvest Moon creator Yasuhiro Wada's 3DS game Project Happiness has been given its official title: Hometown Story.
The game, according to a Famitsu preview translated by Gematsu, has players running a shop in a small town. A fairy assists the player in his duties, and as the shop grows with success, its clientele expands. Players can befriend these shoppers, and at game's end, can choose one of seven wishes to make some of them very happy.
In addition to Wada, Hometown Story features character designs by Atsuko Nishida, an artist whose work you will find in the Pokémon series. Nobuo Uematsu, the iconic composer whose past work includes the Final Fantasy series and The Last Story, is providing music for the game.
The game comes from Toybox Inc., which Wada formed alongside Tomio Kanazawa, a former producer at Marvelous Entertainment. After 15 years developing Harvest Moon games, Wada left Marvelous in 2010 and became Chief Executive Officer at Grasshopper Manufacture (the studio behind No More Heroes and Liberation Maiden), a position he walked away from the following year. Toybox was formed shortly thereafter. Toybox doesn't function as a development studio, but instead collaborates with developers to bring their creations to life.
Hometown Story is scheduled to release in 2013. Natsume will assume publishing duties in North America, with Rising Star Games bringing it to Europe.