Gamers in Japan can enter a lottery for a chance to buy the latest Wii U console bundle on Square Enix's e-Store.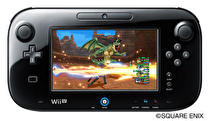 Square Enix has opened up registration for a lottery system for the Dragon Quest X Wii U console bundle in Japan. Starting at 1 p.m. on March 11 and running until March 17 at 11:59 p.m., interested gamers can enter the lottery for a chance to purchase the upcoming bundle. Winners will be notified between March 21 and March 24. The console bundles will also be available at various retailers across Japan when Dragon Quest X releases for the Wii U on March 30.
The Dragon Quest X Wii U console bundle retails for 42,000 yen and comes with a Wii U Premium console set, Wii U Pro Controller (black), a copy of Dragon Quest X for Wii U, a 1,000 yen Nintendo prepaid card and an in game item code for five "chō genki dama (super energy ball)."
The stand alone physical and downloadable version of the game will retail for 6,980 yen.
There is still no word as to when Dragon Quest X will release in the West.