Rising Star Games be keepen' it reel.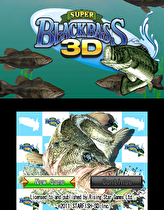 Super Black Bass 3D will be coming to North America courtesy of Rising Star Games. The 3DS game will be arriving on April 2, a little under a month after its European release.
Super Black Bass 3D provides 30 types of fish, and allows players to use the Real Rod System; a way to cast and reel in your catch through the 3DS's motion controls.
The game provides a Tournament mode to compete in, as well as a Free Mode to fish with the settings of your choosing; players can manipulate the weather, season and the time of day. Any accomplishments made in these modes can be ranked in the game's online leaderboards, which includes the biggest Bass caught, and the best tournament results. If a player needs to improve, new gear can be purchased and upgraded by selling off his catches.
The Black Bass series of games first arrived in North America via the NES in 1989's The Black Bass, itself a localized version of Japan's The Black Bass 2.