Highlights include Mega Man 2 and a demo you won't FOEget.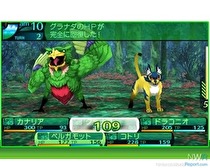 Man, the eShop is making things hard on you this week. Oh, don't worry, it's not as if its interface reverted back to the Wii Shop or anything. It's just that this week's offerings are notably difficult. The Etrian Odyssey IV demo represents a series known to make grown men cry (so much so that a big deal is being made of its new casual mode), and Mega Man 2 for the 3DS Virtual Console is no slouch either. Fist of the North Star: Ken's Rage 2 for the Wii U has you fight off entire armies in one go, and Ah! Heaven for DSiWare makes you work hard for the after life. Hopefully things cool off next week.
3DS eShop Retail Releases:
3DS eShop Demos:
3DS Virtual Console
Dr. Wily is back, and only Mega Man can stop him. Originally released on the NES in 1989, Mega Man 2 is arguably the finest title in the franchise to date. Or maybe that's Mega Man 3. I don't really want to pick a side, things can get pretty gnarly, I've seen the forums. An action platformer from Capcom, Mega Man 2 sees you take down eight robot masters before taking on the head hancho. Your manlihood isn't at stake...you're mega manlihood is.
Wii U eShop
Fist of the North Star 2: Ken's Rage - $59.99
Considered a spin off from Tecmo-Koei's Warriors franchise, Fist of the North Star: Ken's Rage 2 pits you against hundreds of enemies at once. The odds don't seem so stacked when you consider that you are able to blow an enemy's body apart. Kind of levels the playing field, you know? New to this sequel are features that bring the game more in line with the Warriors series of games, sped up combat, and a dodge system available to all playable characters. As well, the game's Legend Mode presents a single storyline that is played through with a variety of characters from the manga the game is based on.
DSiWare:
Ah! Heaven - 200 Points/ $1.99
The whole "tunnel of light" thing sounds like an alright experience after we pass on, but the folks behind Ah! Heaven seem to really know what's going on. Our ascension to heaven isn't easy, it takes hard work and a knack for jumping. In Ah! Heaven, help a soul jump his way through several locales (such as Japan and France) on his way to heaven's gate.