Pokémon event to be broadcast worldwide.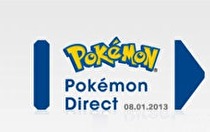 Major Pokémon news will be revealed tomorrow through a special "Pokémon Direct."
The presentation, hosted by Nintendo President Satoru Iwata, will broadcast around the world, airing in North America at 6 AM EST, Europe at 12 noon CET, and 8 PM in Japan.
The tweets from Nintendo of America and Europe note this as a "short message," with Serebii reporting that it will be 10 minutes in length.
There are no confirmed details as to just what this announcement might be.