Shoot 'em like crazy in this western-styled download title!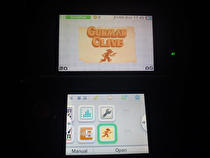 Bertil Horberg's Gunnam Clive will be available on the 3DS eShop on December 20 in Europe, the independent developer announced on Twitter this past Friday.
Gunman Clive is a western-styled side-scrolling platformer, which uses a special rendering technique to give the world a watercolour and felt pen illustration effect. The game has 16 levels as well as massive bosses to overcome. Your ultimate goal is to help Gunman Clive save the local mayor's daughter from a group of bandits, and bring order to the west. According to the developer, the game makes optional use of the system's stereoscopic 3D.
Gunman Clive is currently available on the Apple App Store, Google Play, and Desura for Windows PC. According to Horberg, the game is set to release on the 3DS eShop in North America in early January.