Feel the power of falling blocks in just one week's time.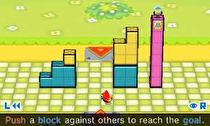 Fallblox, sequel to hit Intelligent Systems puzzler Pullblox, is coming to the European 3DS eShop on November 15.
Known as Crashmo in North America, Fallblox puts a new twist on the mechanics of its predecessor - the podgy protagonist Mallo still has to climb block-based structures by pushing and pulling them, but this time, the blocks are affected by gravity and will fall down when unsupported. It is now possible to view a structure from all sides, opening up a whole new set of possibilities for the puzzles.
Fallblox features over 200 stages, plus a level editing studio that allows players to share their own creations, either through QR codes or directly over the 3DS Internet Browser. Nintendo has also announced that 20 free levels will be sent out periodically via SpotPass in the months following the game's release.