No need for picture taking in Pushmo's sequel.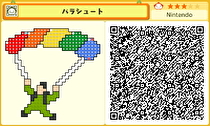 QR codes for Crashmo can be downloaded using the Nintendo 3DS Internet Browser, according to the game's Japanese website. Unlike Pushmo, you will no longer be required to take a picture in order to attain more puzzles, meaning that you do not need to have the code open on another device.
The game has already been released in Japan and owners can navigate to the official game webpage to access new courses produced by the developers. The pictures need to be downloaded to the 3DS and then loaded in the game to make the courses available to play. The feature in fact works for all Crashmo custom stage QR codes saved to the SD card.
Crashmo will be available in North America through the eShop on November 22. The European release (as Fallblox) is due for late November.