Nintendo of Korea gets serious with their support for the platform.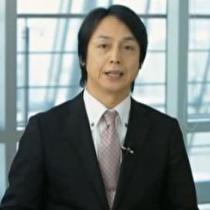 Nintendo of Korea highlighted some of the upcoming Nintendo 3DS games in a Nintendo Direct presentation specifically for South Korea. The presentation was lead by NoK president Mineo Koda, and was streamed live earlier in the week.
On the first-party side of things, Nintendogs + Cats, available since October 18, was the first game of the discussion. NoK highlighted some of the promotional spots for the title, and announced a campaign for free SpotPass content, the first batch of which should be running for the entirety of November.
After this NoK discussed Pokemon Black 2 and White 2, which will release on November 8. On the same day, Korean players can download Pokemon Dream Radar from their Nintendo eShop. It was also revealed that New Super Mario Bros. 2 will hit the region on December 6.
After chatting about games that are coming soon, the presentation moved on to titles of 2013. The first game on the agenda was Animal Crossing: New Leaf, which wasn't given any specific window. Footage was shown with fully translated imagery, so it is certainly in the works. Mario Tennis Open was next, which should be coming early next year. The same release window was given to Style Savvy: Trendsetters, though not many new details were given.
The discussion then move to the games of third-party publishers. Gon Paku Paku Paku Paku Adventure will be coming sometime in the near future, as well as a new version of MapleStory for the Nintendo 3DS. New footage and screenshots were shown for the MMOPRG adaptation, with a clear emphasis on much clearer and crisper visuals. Cooking Mama 4 was also shown, though it was given a vague 2012 release window.
Ubisoft will also be bringing a bunch of titles to South Korea, with Rayman 3D and Petz Fantasy 3D being the first, on November 28. Later in 2012, players can expect to get their hands on Rayman Origins and Rabbids: Travel in Time 3D. At some point in the future, Tom Clancy's Ghost Recon: Shadow Wars and Tom Clancy's Splinter Cell 3D will also be available.
Other games include Kokuga, the new game from Ikaruga director Hiroshi Iuchi (November 28);Rhythm Thief and the Emperor's Treasure (before the end of the year);LEGO Harry Potter 5-7, Spy Hunter, and LEGO The Lord of the Rings from Warner Bros.; Senran Kagura Burst from Marvelous AQL; Etrian Odyssey IV, Devil Summoner: Soul Hackers, and Shin Megami Tensei IV from Atlus.; and Theatrhythm Final Fantasy from Square Enix.
You can watch the full Nintendo Direct presentation below.