We didn't have to wait long to get a confirmation of the rumor.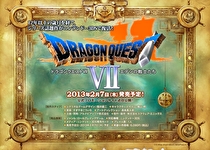 A 3DS remake of Dragon Quest VII: Eden no Senshitachi (Warriors of Eden) will be released in Japan on February 7, 2013, a newly opened Square Enix webpage confirmed.
As was rumored, it is being developed by ArtePiazza, the developer of DS remakes of DQIV, V, and VI, and they were also involved in the development of the original Dragon Quest VII. Although nothing about StreetPass functions were revealed, the webpage also tells us that the game will have a connectivity function with Slime's Room.