Players must register with Origin if they want to play FIFA 13 or Mass Effect 3 online.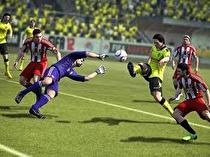 Wii U games from Electronic Arts will require an Origin account for online play and services, according to the latest version of the publishing giant's privacy policy.
The document states that an Origin account will be established when a user signs up to play EA-published software on Wii U, using their "Nintendo account information." The console will also provide EA with data such as Nintendo Network ID, Mii details, email address, friends list, location, language and date of birth.
It is unknown what exactly constitutes a Nintendo Network ID, although it is possible that it will be similar to the system currently used on the Nintendo 3DS, where each player is assigned a Mii character and personal Friend Code.
Confirmed EA launch titles include Mass Effect 3: Special Edition, FIFA 13, and in North America, Madden NFL 2013. All three of these games feature online modes, so players will need to log in to Origin in order to play them.
Origin was launched last year by EA to serve as a unified digital distribution and social networking service.