An added footnote to the recent Iwata Asks affirms that Pikmin 3 will be out before March 31, 2013.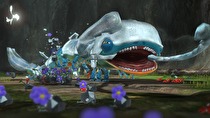 Nintendo of America clarified that Pikmin 3 is indeed coming out in the launch window, meaning that the game will be out in North America before March 31, 2013.
In a footnote in a recent Iwata Asks, Nintendo added this clarification: "Pikmin 3 is scheduled for release for the Wii U console in the spring of 2013 in Japan, and during the Wii U launch window, from system release thru 3/31/2013 in the US. (Editor's note 10/19/2012: We originally published the article citing only the expected release timing in Japan. We apologize for any confusion this may have caused.)"
Pikmin 3 is still due out in spring 2013 in Japan, which translates to sometime between March and June. In North America, Pikmin 3 should out within the first four months of the system's launch. There has been no word regarding the game's European release.