North America's launch window dreams might be dashed.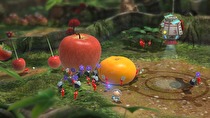 Pikmin 3 is scheduled for release in spring 2013, according to the latest Iwata Asks, focusing on the Wii U GamePad.
At Nintendo of America's Wii U Preview Event in September, Pikmin 3 was slated for a launch window release in North America. The launch window runs until March 31, 2013. Unless the game is released in the first 11 days of spring, which starts on March 20, then Pikmin 3 will miss the launch window. We have reached out to Nintendo of America for comment on Pikmin 3's release date.
In Japan, Pikmin 3 has been listed as a spring 2013 title since the September Wii U Nintendo Direct. In Europe, nothing regarding the game's release has been mentioned recently.
Wii Fit U and The Wonderful 101 are other games in this weird release date limbo. Like Pikmin 3, they were listed as launch window games in North America. In Japan, Wii Fit U was listed alongside Pikmin 3 as a spring release, and The Wonderful 101 was listed as TBA.