Go ahead and attempt to collect all the pins in one playthrough. It's possible if you're crazy!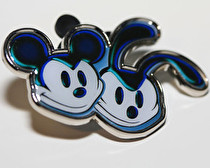 More than 150 unique pins await players in Epic Mickey 2: The Power of Two, and those pins will have a use, offering up different buffs and boosts for players, though the exact way that alters gameplay is still under wraps.
Aside from that, the game's Director Warren Spector detailed other ways pins can utilized during a New York Comic Con roundtable. "You can go to the Pin Shop (on Mean Street) and show off your collection to your friends and all that. Unless you're a crazy tester, you're not going to get them all in one playthrough, but it is possible."
Spector hinted at some other possible way to show them off, possibly online, but after further prying, it turned out that online pin sharing is just a lofty goal.
"The reality is I'm kind of a kitchen sink designer. When you start a project, you just kind of get every idea from everybody. "It's almost like sculpting; you just cut the stuff that doesn't fit," he explained. "I hope in the future we can come back to some ideas we had for how to facilitate pin interactions. But that implies that there are plans and people are working, and that's how I get in trouble. Which I guess I just did."
The Observatory, another Mean Street location, was also teased. "If you find [the Observatory] on Mean Street and you look through it, you might find something about the world and the cartoon universe and all that stuff. It's pretty cool."
Epic Mickey 2: The Power of Two is coming to Wii on November 18, and hopefully November 18 on Wii U.