Two DC Comics mainstays are the latest to enter the fray.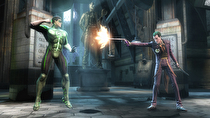 Power ring-wielding comic book legend Green Lantern and Batman supervillain The Joker will be playable characters in Injustice: Gods Among Us, as confirmed on Twitter by NetherRealm Studios creative director and Mortal Kombat co-creator Ed Boon.
Both Green Lantern and The Joker appeared in the roster of the previous DC Comics crossover fighting game, Mortal Kombat vs. DC Universe. This confirmation brings the current character count to 12, following the recent reveal of hero archer Green Arrow.
Boon also announced plans for Injustice at the upcoming New York Comic Con. Attendees at the convention will be able to try out a demo of the game, with Catwoman and Green Arrow being playable to the public for the first time.
Injustice: Gods Among Us is a fighting game featuring an all-star cast and an emphasis on battle arenas with interactive environmental elements. The game is expected to release on Wii U some time next April.