The Emerald Archer himself finds his way into NetherRealm's superhero mash-up.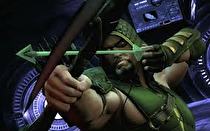 DC Comics superhero bowman Green Arrow is the latest character to be confirmed as a playable fighter in Injustice: Gods Among Us, the upcoming crossover fighting game from Mortal Kombat developers NetherRealm Studios.
In comic books parlance, Green Arrow is the alter-ego of billionaire playboy Oliver Queen, who adopted this Robin Hood-inspired guise to fight crime and help the needy. First appearing in the 1940s, he eventually became a regular member of the Justice League of America.
The new gameplay trailer showcases Green Arrow's moveset, which seems to faithfully reflect his abilities in the comics. He incorporates a variety of special arrows, including rope, ice and explosive arrows, into his fighting style, making him potent over long range. He is also capable in close-quarters combat thanks to a blade fixed along the edge of his bow.
Green Arrow joins a replete character roster that includes well-known DC icons such as Superman, Batman, The Flash, Wonder Woman, Catwoman and Nightwing. They will all join the fight when Injustice: Gods Among Us is released on Wii U in April 2013.