Hunting monsters in NYC has never been so exciting.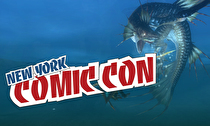 Capcom has announced that a playable version of Monster Hunter 3 Ultimate will be playable at this weekend's New York Comic Con.
A room has been reserved for players to come in and play a bit of the game. This will be the first time the game will be playable in North America. The game will be playable on both the Nintendo 3DS and Wii U.
In addition to the free play option, Capcom will also be running a Monster Hunter Tournament. Prizes for the winners will include copies of the game (when it is released). The tournaments will take place between 1:00 PM and 3:20 PM on Saturday and Sunday. The tournaments will be first come first serve with three levels of difficulty through out the day.