Fans heading to New York Comic Con will be getting their first hands-on with the 3DS version of Monster Hunter 3 Ultimate.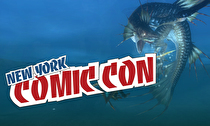 Monster Hunter 3 Ultimate for the Nintendo 3DS will be playable on the show floor at this years New York Comic Con. A company employee revealed the upcoming title's presence via Capcom's community website, Capcom-Unity.
He went on to say that Capcom will also have a seperate room available to provide a "more chill environment", as well as tables and power stips for fans of the series to join together and hang out whilst playing their favorite portable version of the game. A competition is also planned for the event in which prizes will be given away.
Monster Hunter 3 Ultimate is slated to be released in March 2013 for both the 3DS and Wii U. New York Comic Con will be taking place at the Jacob Javits Center located in Midtown Manhattan, October 11-14.