DQX will be playable on the GamePad, save data can transfer over from Wii.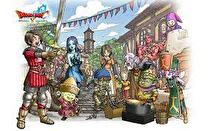 Square-Enix revealed new information about the Wii U's upcoming Dragon Quest X, including that the title will be playable on the GamePad.
During a demonstration of the title at this year's Tokyo Game Show, Square-Enix provided a rundown of what to expect from DQX on its transition from Wii to Wii U. It was said that the content will remain the same between both versions and moderate improvements to the visuals have been made aside from the high definition presentation. Square Enix also discussed the fact that servers would be shared by both versions, characters and save data can be transferred between the Wii and Wii U, beta testing will commence soon (access to the beta is included with the Japanese Wii U's Deluxe Set), and owners of the Wii version who intend to purchase the Wii U version will also have access to the beta (although details on how exactly this process would work was not discussed).
No release date has been set for Dragon Quest X on the Wii U.