Pop balloons, solve puzzles, dodge obstacles, and stack goats in last week's digital releases.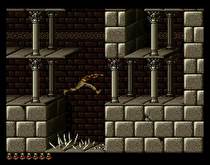 This week, the Nintendo 3DS welcomes two interesting puzzle games to the mix while the Wii gets a classic puzzle/platformer on the Virtual Console. There's also another bizarre release on DSiWare.
3DS eShop Games:
Balloon Pop Remix - $7.99
Use the stylus to pop balloons in this portable puzzler. It features a story mode along with more than 100 stages in the more traditional puzzle mode. Neal Ronaghan calls it a "a fine puzzle game that presents a complete package on the eShop" in his review
Heyawake by Nikoli - $7.99
Enjoy sudoku-style puzzle games from the publisher that gave them their name with this eShop download. Heyawake (divided room) puzzles involve a grid playing board that is divided using bold lines into a series of rooms. Using the information presented to them and the rules of the game, players must determine which squares should be filled in and which should be left blank. This download version of the game contains 50 puzzles.
Virtual Console:
Prince of Persia - 800 Points
The Wii Virtual Console welcomes the enhanced SNES version of the classic from Jordan Mechner title this week. Known for it's fluid animations and high level of difficulty, this is an early remake of the original Apple II puzzle/platforming game.
DSiWare Games:
Crazy Hunter - $4.99 / 500 points
Drive a boat. Run into goats. Capture the goats. Stack the goats high enough to reach the clouds. Find hens that lay golden eggs in the clouds. Profit!