UPDATE: The iOS version has officially been confirmed.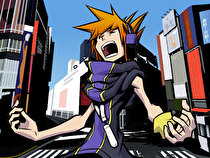 UPDATE: Square Enix officially announced the iOS game which is set to release on iPhone and iPad on August 27. The game dubbed The World Ends with You: Solo Remix is a new version of the original DS game.
Square Enix is set to release a new version of The World Ends With You on iOS later this year.
The news comes from the listing of a new TWEWY soundtrack on Square Enix's e-Shop, which included text mentioning the existence of a version of the game on the iOS platform before it was later removed. The original text also mentioned the inclusion of new music for the iOS version.
Square Enix has not officially announced an iOS version of the game, nor has it confirmed or denied the existence of a Nintendo 3DS version.
Before the leak, Square Enix stated that its TWEWY announcement would be revealed on August 27 at midnight in Japan, which is August 26, 11 a.m. ET in North America.