Just like in the DS classic, Square Enix's new website shows that we have seven days to find out the future of TWEWY.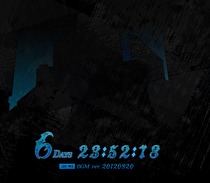 At midnight ET, a countdown on a Square Enix website struck zero yielding another countdown along with some tantalizing connections to the DS RPG The World Ends With You.
While we don't know what Square Enix is going to announce, it is beyond a doubt that it will be related to TWEWY franchise. The evidence includes:
The silhouetted image on the teaser page is of "Scramble Crossing" form TWEWY (Scramble Crossing was also the background of TWEWY's logo).

The song playing on the website is a remix of TWENTY song "Calling."

The seven-day countdown is a major plot device of TWEWY and the font in the count mimics that from the game.

The website lists Tetsu Nomura and Gen Kobayash as character designers - a role they filled in TWEWY

The website address is /subaseka/. SubaSeka is the Japanese shorthand for The World Ends With You, which is titled Subarashiki Kono Sekai in Japan.
The countdown will expire at midnight ET, August 27. Until then all we can do is guess what Square Enix has planned.