The RPG giant wants to give you new content for ten years.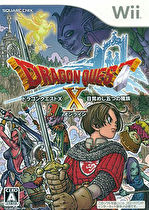 Square Enix has laid out a plan to support Dragon Quest X with new content every ten weeks for ten years. Although it was revealed by game producer Yosuke Saito on Twitter recently that the game would receive updates every ten weeks, it was further revealed by Nikkei that these updates would continue on for ten years.
Although the game is available on Wii, and scheduled for release on Wii U, it was not detailed whether or not the Wii version would also receive the updates for the full ten years. While it seems unlikely that any Wii game would still be heavily played in 2022, the game is already available on the platform in Japan, well ahead of the launch of Wii U.
The specifics of the content are still unknown, but it is thought that the game will receive additional story-based side quests as part of the ten week updates.
The release plans for the game outside of Japan are currently unknown.