Sports games seem to have taken over this week.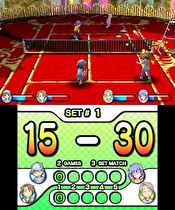 Nintendo's 8-Bit Summer has begun and not only does it kick off with some classic games, there are plenty of new non-8-bit titles to enjoy, as well.
3DS eShop Games:
Family Tennis 3D - $6.99
Play tennis with eight different characters across six different courts in Family Tennis 3D. Not only can you try your hand in a tournament, there are plenty of mini-games to enjoy, too, including Roulette Rally, Human Backboard, and Survivor.
Akari by Nikoli - $4.99
The next Nikoli puzzle game, Akari, is available today. In Akari you set various lights around the board using the hint numbers provided; this is done in an effort to light up all of the white space. The game features both pre-made puzzles and randomized ones for your continued enjoyment.
DSiWare Games:
3, 2, 1…WordsUp! - $1.99
3, 2, 1...WordsUp! challenges your grasp of five different languages as you try to create as many words as possible using a set amount of letters. Create enough words within the given time limit or else you will lose.
Topoloco - $4.99
Get ready to study topography in Topoloco. Professor Topoloco can teach you about five of the continents using mini-games that have you locating cities and countries, and dragging flags. Whenever you are comfortable with what you have learned, you can take a swing at the final exam.
WiiWare Games:
Let's Create! Pottery - 500 Wii Points
Relax by creating your very own pottery in this soothing WiiWare experience. Let's Create! Pottery features dozens of different materials to use while creating your own ceramics. Get creative as you craft whatever kind of pottery you like.
3DS Virtual Console Games:
The Legend of Zelda - $4.99
The original Legend of Zelda is now available not only to ambassadors, but everyone. In the game, you must gather the eight pieces of the Triforce, save Princess Zelda, and stop Ganon.
NES Open Tournament Golf - $4.99
Play a game of golf with Mario in NES Open Tournament Golf. You can compete in three different game modes: stroke, match, and tournament. Take your shots on the three different courses as you try to win one million dollars.
Wii Virtual Console Games:
2020 SUPER BASEBALL - 900 Wii Points
The Neo Geo version of this game features a very futuristic version of baseball. Special field elements and even mines all try to hinder your players. Armor can be purchased for your players so that you can survive 2020 SUPER BASEBALL.
3DS Game Demos:
Heroes of Ruin - FREE
Heroes of Ruin releases on the 3DS later this month, but you can start enjoying the action now. Check out impressions from James Dawson time with the game at E3.
eShop Sales:
Sakura Samurai: Art of the Sword - $4.99
Sakura Samurai: Art of the Sword was originally released on the eShop earlier this year for $6.99. For this weekend you can take advantage of this $2 price drop. Read Neal's review of the game here.