The North American DLC is now available for download.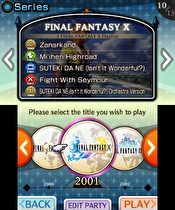 UPDATE 2: The North American DLC is now available.
UPDATE: The North American DLC will be available "later today" according to Square Enix.
The first set of downloadable content for Theatrhythm Final Fantasy in North America and Europe has been revealed. The "add-on content" will launch in Europe on Thursday, and it is coming soon in North America.
The game itself includes more than 70 musical pieces, but at a cost of $0.99/€1 each, you can download additional tracks. The first eight tracks to be made available include:
1. "Battle Theme 1" (FINAL FANTASY II)
2. "The Final Battle" (FINAL FANTASY IV)
3. "Fighters of the Crystal" (FINAL FANTASY XI)
4. "Fighting Fate" (FINAL FANTASY XIII)
5. "In Search of Light" (FINAL FANTASY V)
6. "Cosmo Canyon" (FINAL FANTASY VII)
7. "Ride On" (FINAL FANTASY VIII)
8. "A Fleeting Dream" (FINAL FANTASY X)
Square Enix representatives have said that they plan to release about 50 songs. Currently, there are more than 40 available in Japan.