Castlevania, Kingdom Hearts, and more are coming to both physical and digital formats.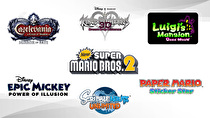 Several third-party titles, including Castlevania: Lords of Shadow – Mirror of Fate, Epic Mickey: Power of Illusion, Kingdom Hearts 3D: Dream, Drop, Distance, and Scribblenauts: Unlimited will be released in both digital and physical formats. The information comes from the 2012 E3 Analyst Q & A Session, which is now available on Nintendo's website.
Previously, Nintendo announced that all first-party titles would be released in this fashion. All of the above titles will be arriving on the Nintendo 3DS in the second half of 2012. It is unknown if Kingdom Hearts 3D will be a digital release when it comes out on July 31, or if it will be a digital release after New Super Mario Bros. 2, which was announced as the first digitally released retail game, comes out on August 19.