Wii U owners will get to shoot each other with the next iteration of Call of Duty.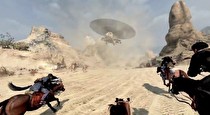 Call of Duty: Black Ops 2 is headed to the Wii U, AllGamesBeta reports. The findings come from a recent article in in the UK publication Nintendo Gamer. Gameplay details and Wii U GamePad functionality were not detailed but are expected to be revealed in the magazine's next issue.
Activision's CEO Erik Hirshberg commented on the possibility of a Wii U version during E3: "We take our time to get our ducks in a row before pulling any trigger. We don't have announcement today but we will be supporting Wii U." Afterward, he went on to discuss how the second screen functionality for Call of Duty Elite was being developed for smartphone and tablet functionality.
The studio head of Treyarch, Mark Lamia, mentioned how the Wii U Pro controller would be "really good for first-person shooter games," and how he has thought about the possiblities of the features and functionality developers could get out of the additional screen. "I absolutely have given it consideration and thought. We're game developers and it's a new piece of hardware and technology, so we're always thinking about that stuff."