Wii U will be a Bring Your Own Storage party.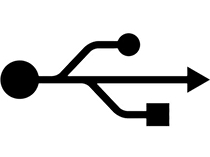 Wii U will support external hard disk storage via USB connection. At the Nintendo Analysts meeting at E3, Nintendo confirmed that the Wii U will not contain an internal hard disk, instead letting users provide their own storage using cheaper external USB drives.
While the Wii U will almost certainly provide a nominal amount of internal flash storage for game saves and some game downloads, the size of full Wii U retail downloads will require users to provide an external storage device of their own. Wii U specs have for a long time shown USB 2.0 support (there are four USB ports on the current Wii U console hardware design). Alternatively, the Wii U also has an SD Card slot which could ostensibly used for a similar purpose.