A patent application details a UFO rescue game.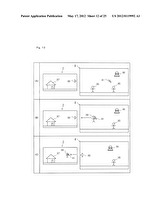 Nintendo is thinking about the ways that the Wii U screen and TV screen can be used simultaneously with the Wii Remote, as revealed by a patent application published today.
Though previous applications mentioned the possibility, this application is the first to explain how it would work. Players must first point at each screen, pressing a button when centered. The attitude of the Wii Remote is recorded at each point so that the game later knows at which screen the Remote is being pointed. The sensor bars can be turned on and off independently to provide more accurate pointing.
A simple game is described in the application. In it, people who are being attacked by UFOs on the TV screen must be grabbed and dragged to the tablet screen where they can find refuge in a house. The description is reminiscent of the Wii Play mini-games, and could be part of a similar Wii U collection.
The patent application was filed on Oct. 7, 2011 (Nov. 17, 2010 in Japan), and the authors listed are Kenichi Nishida, Yoshikazu Yamashita, and Takayuki Shimamura.