The design would add a GameCube-like grip pattern to the 3DS control pad.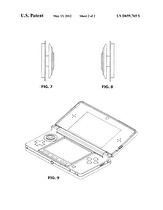 Nintendo was awarded a design patent for a new 3DS Circle Pad thumb knob design this week.
The knob includes two raised concentric rings, similar to those found on the GameCube controller's thumb stick, which should improve grip. Nintendo has not announced a 3DS redesign, but it is possible that the improvement will appear in such a revision or on the Wii U controller. The included 3DS diagram does not include an oft-requested dual Circle Pad design or any other changes to the system.
Design patent D659765 was filed for on Dec. 6, 2011 and awarded on May 15, 2012. The patent lasts for 14 years. The designers are Yuki Taniguchi and Junichiro Miyataki. A corresponding design was registered in Europe a year earlier on Dec. 10, 2010 along with the current design, so it's possible that this alternative design was discarded.