Hearts are broken and souls are shattered as Nintendo pulls the plug on the free 3DS 3D video service.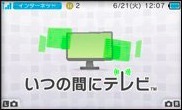 Itsu no Ma ni Terebi, also known as SpotPass TV, is going to be shut down for good on June 20 in Japan. The service, which launched on June 19, 2011, is a joint service between Nihon TV and Fuji TV that brings free 3D video content to Nintendo 3DS users in Japan. Types of content included programming teaching you how to do magic tricks, Japanese idol sumo wrestling, sports, 3D dating, and more. There was no reason given for the cancelation.
You can read more about some of the content that was included in service here.