Add more on top of your virtual pile...if you live in Japan.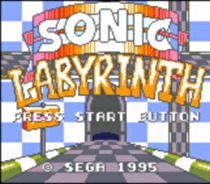 Sonic Labyrinth for Game Gear and Downtown Nekketsu Kōshinkyoku Dokodemo Dai Undokai for Game Boy will arrive on the eShop in Japan on May 16 and retail for 300 yen and 400 yen respectively.
Sonic Labyrinth is a puzzle game that was originally released in 1995 on the Game Gear where players guide Sonic through the pinball-like arena to locate hidden keys.
The Kunio-kun title, originally released on the Game Boy in 1992, lets players participate in various sporting events while still having the ability to violently engage their opponents. This marks the third time that Sonic has made an appearance on the service and the fifth time that a Kunio-kun related game has been released.
There are currently 60 titles available on the 3DS Virtual Console (Game Boy, Game Boy Color, Game Gear, Famicom) in Japan. The two upcoming titles mark numbers 61 and 62.