Organize your 3DS menu and patch your games!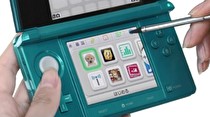 Nintendo will add the ability to patch games and put your applications into folders in a 3DS firmware update on April 25.
The first game to use the patching ability will be Mario Kart 7, which will correct the glitches such as the infamous Maka Wuhu shortcut. Other games receiving updates are Kingdom Hearts 3D (in Japan), Love Plus (in Japan), and Kid Icarus: Uprising.
The update will also add the ability for the Nintendo 3DS to use folders in the home menu. These folders will be able to hold up to 60 icons each, making managing and browsing your 3DS download software much more convenient.