Monster battling is back, now featuring devices that can actually fit in your pocket.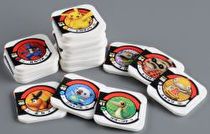 Pokémon Tretta has been revealed to be an arcade machine, following a trademark from last month with little information given at the time outside of a logo, as reported by Serebii.
The machine uses various discs with pictures of Pokémon on them in order to battle, find wild Pokémon, and capture Pokémon (using a roulette). Players can also save a record of battles on a device known as Tretta Report.
The game is due for country-wide Japanese release in July, with no word of any localization.