This Final Fantasy rhythm game hits the Nintendo 3DS this summer.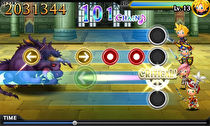 Theatrhythm Final Fantasy will be heading to North American retailers for release on July 3, 2012, according to Square Enix.
Square Enix had previously revealed that the game would be coming to North America at some point this summer, and now the official date is known. Theatrhythm Final Fantasy celebrates 25 years of the Final Fantasy series by including musical entries from the franchise's entire history.
For those attending PAX East, the game will be playable at Square Enix's booth (#850). So if you are heading to PAX East this year, you may want to go check this out.
The game released in Japan on February 16, and sold extremely well. In just a few short months North American's will get the chance to experience some of the history of the Final Fantasy series.
Check out some impressions of the game here.