The wait for this music game is almost over for North Americans.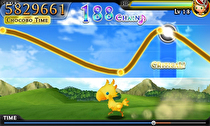 Theatrhythm Final Fantasy is coming to the Nintendo 3DS this summer, according to Square Enix.
Theatrhythm Final Fantasy was released in Japan on February 16, and sold significantly well. The game will now have its chance in North America in the coming months.
The game celebrates the 25th anniversary of Final Fantasy by selecting tracks from the entire series history. In Japan the game featured DLC, which you can read impressions of here. It can be expected that some, if not all of that DLC will make it stateside.
Currently there is no slated release date other than summer of 2012.