Club Nintendo users with spare coins can get Metal Torrent, You, Me & the Cubes, and Excitebike: World Rally.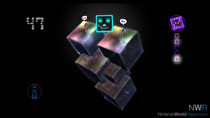 Nintendo's Club Nintendo game rewards, which started late last year, are offering three new titles for coins earned by buying games and taking surveys.
The lone 3DS title is a DSiWare game called Metal Torrent, which is a shoot-'em-up made by Arika and published by Nintendo. It is available for 150 Coins, and you can check out our impressions of it for more info.
On WiiWare, there are two different games available. Excitebike: World Rally, for 200 Coins, is a modernized version of the NES classic developed by Monster Games, who worked on Excite Truck, Excitebots, and Pilotwings Resort. Check out our review for more details.
The second game is You, Me & the Cubes, which is developed by Kenji Eno, who is best known for the survival horror series D. This game is the polar opposite of that (sort of), as it is a weird puzzle game where you throw humanoid creatures onto cubes and try to balance them. It is available for 200 Coins. Check out our impressions for more details.
Club Nintendo users can get these games anytime between today and the end of the month, April 30. Remember, while Metal Torrent is a DSiWare game, the code given only works on the 3DS eShop.