The popular indie PC title did not pass Nintendo's content review process.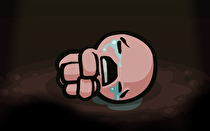 The Binding of Isaac is no longer under review for release on the Nintendo 3DS. According to Edmund McMillen, the game's creator, "After a long internal debate Nintendo has decided NOT to allow the Binding of Isaac on the 3ds. As many assumed the reasons were due to the games 'questionable religious content'. Thank GOD Steam exists!"
Earlier this year, McMillen announced that his popular Zelda-esque PC game was being pushed to Nintendo for review by an unknown company, which was later revealed to be Nicalis. McMillen noted that Nintendo was okay with the gratuitous violence, gore, and nudity, but not the religious content.