Nintendo Australia has opened up a new MK 7 community.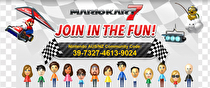 Nintendo Australia recently announced that they have opened an official Mario Kart 7 Community. In addition to the new community group, there will also be various special guest challenges, with the first guests being people from the Nintendo Australia staff.
The date and time for the first challenge is Monday, February 27, 2012, from 6:30pm - 7:30pm (AEST). To access the community, you can either go to the recommendations menu in the Mario Kart 7 Channel, or enter the following code: 39-7327-4613-9024.
There is also an official Twitter hashtag, which is #MK7AUNZ.