The title aims to train memory and concentration.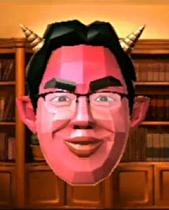 Oni Training (or "Demon Training"), the newest title in the Brain Age series, was revealed by Nintendo President Satoru Iwata during Nintendo Direct.
The game is a spin-off of Dr. Ryuta Kawashima's Brain Age for 3DS, focusing on training the players memory and concentration. It features a demon version of Kawashima. Iwata said that the game attempts to give players a serious challenge while avoiding frustration.
Nintendo plans on revealing the final title of Oni Training, as well as other details, at a later date. It is currently set for a summer release.