Join Iwata for new and upcoming 3DS and Wii titles. UPDATE: Reggie too! UPDATE: And Europe!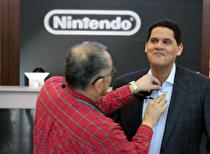 The third Nintendo Direct broadcast is scheduled for Wednesday, February 22, Nintendo revealed on their website.
Nintendo President Satoru Iwata is set to reveal the latest Nintendo 3DS and Wii titles, but no specifics were given. The broadcast will be available in Japanese on Nico Nico Live and Ustream beginning at 8 pm Japan Standard Time (6 am EST, 3 am PST).
The company started the Nintendo Direct initiative last October as a way to connect directly with consumers. The last broadcast took place on December 27.
Update: Nintendo of America President Reggie Fils-Aime will be revealing English-language news at 9 am EST, 6 am PST at nintendo.com/nintendo_direct. Both Iwata and Reggie have sent out special Swapnote messages, each with their own custom stationery. Europe will have their first broadcast starting at 1 pm CET in various languages.
Video recorded by Daan Koopman.