A Resident Evil: Revelations demo hits both regions, while Europe gets an exclusive Cooking Mama 4 demo.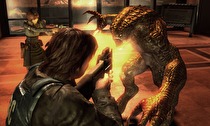 Playable demos are coming to the eShop in North America and Europe starting tomorrow, more than a month after demos launched in Japan.
The debut demos are Resident Evil: Revelations (North America and Europe) and Cooking Mama 4 (Europe). Resident Evil: Revelations hits shelves in both regions in the next few weeks. Cooking Mama 4 has been in stores since November.
Additionally, Nintendo confirmed future demo releases of Metal Gear Solid: Snake Eater 3D (both regions), Mario & Sonic at the London 2012 Olympic Games (both regions), Rhythm Thief (Europe), and Rayman Origins (North America). Mario & Sonic even received a specific release date, with the demo coming in next week's eShop update.