This 3DS Fatal Frame spin-off is coming stateside with a new name.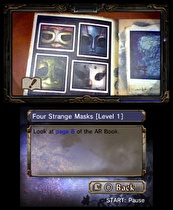 Spirit Camera: The Cursed Memoir is coming to North America on April 13, Nintendo of America announced today.
Spirit Camera, referred to in Japan as Shinrei Camera, is a spin-off of the Fatal Frame series and was developed by Tecmo Koei.
A horror game that uses both the system's cameras for augmented-reality, players can see events from the game transpire in their own home. The game comes with a 16-page book full of images that make use of the 3DS's AR abilities. Focusing the 3DS cameras at the images will reveal movies or even bring characters to life for an interactive experience.