At the end of the year, Nintendo 3DS games remained strong sellers.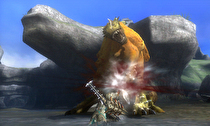 Mario Kart 7 and Monster Hunter 3G remained the top sellers at the end of 2011.
According to sales data by Media-Create, 4gamer and Geimin.net, for the week of December 26, 2011 until January 1, 2012, Mario Kart 7 sold 109,463 units for a total of 1,160,169 units since release. Following was Capcom's Monster Hunter 3G, which sold 100,042 units for a total of 985,490 copies.
In fourth place was Super Mario 3D Land with 68,483 copies sold for a total of 1,080,192 copies sold since its release. Several Wii titles also saw good sales performances during the week. Just Dance Wii sold 33,347 copies for a total of 453,411 units sold. Kirby's Return to Dreamland was next with 24,067 units sold, and closing out Nintendo titles in the top ten was Wii Party with 22,932 copies sold for the week.
The full sales chart is as follows:
01. Mario Kart 7: 109,463 1,160,169 3DS Nintendo
02. Monster Hunter 3G: 100,042 985,49 3DS Capcom
03. Warriors Orochi 2: 73,526 274,052 PS3 Tecmo Koei
04. Super Mario 3D Land: 68,483 1,080,192 3DS Nintendo
05. Final Fantasy XIII-2: 61,202 704,236 PS3 Square Enix
06. Inazuma Eleven Go: Shine/Dark: 47,938 269,224 3DS Level 5
07. Just Dance Wii: 33,347 453,411 Wii Nintendo
08. Kirby's Return to Dreamland: 24,067 537,128 Wii Nintendo
09. Wii Party: 22,932 2,223,629 Wii Nintendo
10. SD Gundam: G Generation 3D: 20,427 111,300 3DS Namco Bandai
11. Wii Sports Resort: 19,999 802,974 Wii Nintendo
12. Mario Kart Wii: 19,410 3,448,314 Wii Nintendo
13. Go Vacation: 19,312 181,165 Wii Namco Bandai
14. The Idolm@ster Anime & G4U: Vol. 3: 18,992 New PS3 Namco Bandai
15. Inazuma Eleven Strikers Xtreme 2012: 18,772 103,889 Wii Level 5
16. Taiko no Tatsujin: Definitive Edition: 18,041 173,580 Wii Namco Bandai
17. Pro Evolution Soccer 2012: 17,806 157,404 PSP Konami
18. Call of Duty: Modern Warfare 3 (Dubbed Version): 17,394 68,549 PS3 Square Enix
19. PowerPro Baseball 2011 Ketteiban: 17,065 51,905 PSP Konami
20. Frontier Gate: 15,800 44,443 PSP Konami